19 février 2009
C'est le slogan que scande Lo moitié du groupe HeartsRevolution dans leur titr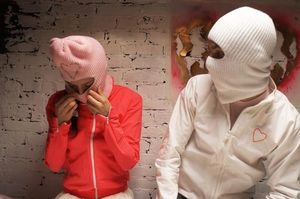 e: CYOA.
HeartsRevolution, composé de Ben et Lo est un groupe de New-York qui fait de l'électro-punk glamour et qui vend sa musique, des t-shirts mais aussi des glaces. Original comme concept, non ? Pour ce qui est des glaces je n'ai pas goûté mais la musique est plutôt bonne.
Ils ont sorti leur premier EP en 2008 avec le titre Switchblade, puis Ultraviolence est diffusé sur la sixième compilation de Kitsuné et rappelle les cris d'Alice (Crystal castles).

Et c'est vrai qu'entre grésillements industriels et fashion rock attitude, Crystal Castles et HeartsRevolution semblent cousins. Après l'électro/disco/chiottes, une nouvelle mode électro/nintendo/destroy serait-elle en train d'émerger ?

Revenons-en à nos moutons: en écoutant CYOA j'hésitais quant au titre à donner à cet article: "l'amour à la clé de douze", "comment énerver ses voisins le dimanche", "HeartsRevolution, vous déjeunez quoi le matin ?" ou encore "faut-il oui ou non dire à Ben et Lo d'arrêter la cam ?".

Quoiqu'il en soit, le clip de CYOA ci-dessous est vraiment très beau et j'attends leur album.
MySpace de HeartsRevolution
Site officiel de HeartsRevolution
Article à venir: The Go! Team
Album à paraître:Casiotone for the painfully alone- Advance Base Battery Life
Commentaires sur Choose your own adventure !