22 février 2009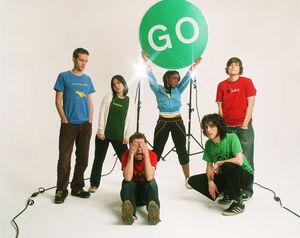 Pour ce nouveau journal j'avais décidé pas mal de choses: arrêter de dire "je" et de te tutoyer, faire moins de parenthèses et davantage d'actualité. Finalement, tu vois, je vais te parler de "The Go! Team" dont l'actualité la plus imminente est son concert le 12 mars à Vaulx-en-Velin (Vaulx Jazz Festival) en espérant que toi aussi tu remets toujours tes bonnes résolutions à plus tard.
The Go! Team est un groupe anglais de trois garçons et trois filles (parité, parité...) basé à Brighton. Ian Parton, leader du groupe, joue à l'apprenti sorcier et jette tout ce qu'il trouve dans sa marmite: beats hip-hop, samples, funk, rock, voix de cheerleaders... Tu as déjà essayé de jouer avec des marmites ? ...Moi non plus parce que je présage une cacophonie insupportable. De la marmite de Ian Parton jaillissent des sons éclectiques, liés par des rythmiques énergiques et au final ça donne des titres singuliers, colorés et riches. Et là je lâche "surprenant" (litote) sur un ton qui, s'il le pouvait, dirait: "élémentaire mon cher Watson". Enfin, toutes marmites gardées (car le cours du cuivre augmente, le savais-tu ?), le groupe est productif puisque ils ont sortis deux albums,Thunder Lightening Strike en 2004,Prouth Of Youth en 2007, et huit singles et ep entre 2000 et 2007. Actuellement, ils sont sous le label britannique Memphis Industries, label orienté rock et qui m'a l'air plutôt bon.
Je laisse à ton attention le clip de The Power Is On, extrait de leur premier album Thunder Lightening Strike et réalisé par Dan Hammond et Jason Miller.
MySpace de The Go! Team
Site Officiel de The Go! Team
Article à venir:hésite encore entre Elbow, Death Of The Neighbourhood et Cajun Dance Party
A paraître:Hauschka- Snowflakes and Carwrecks (ep)
Commentaires sur The Power Is On