03 avril 2009
Interview de The Onlookers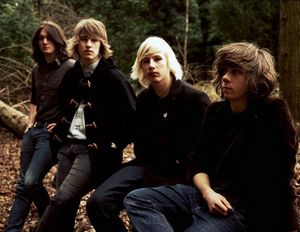 The Onlookers, est un groupe de rock anglais composé de Dale (voix sexy et guitare)et Cullum (batterie) qui sont frères, Thomas (guitare) et Jamie (basse). Ils sont jeunes, doués, anglais et composent des titres à l'énergie ravageuse comme "Paintstripper" ou "Casino". Ils n'ont pas encore sorti d'album mais font déjà un malheur sur myspace.
Say Yeah a donc voulu en savoir plus...
Quel âge avez-vous?
Jamie: Nous avons entre 17 et 19 ans, on a l'âge de faire les courses et on parle des choses qu'on achète.
Dale: Maintenant, nous cuisinons le petit-déjeuner, le déjeuner et le diner.

Quand et comment vous êtes-vous rencontrés?
Thomas: Nos parents se sont rencontré à un concert de Sheryl Crow en 1994. L'été d'après, nous sommes allées en Cornouailles en vacances. Nous avons passé deux semaines, nous avons partagé une caravane et nous avons construit des châteaux de sables.

Quelles sont vos influences ?
Jamie: Pour moi, c'est certainement Eric Carle et Henri Matisse.
Callum: Peut-être Édouard-Léon Scott de Martinville?
Thomas: Personnellement, Neil Young, Jack Kerouac et Robert Frank.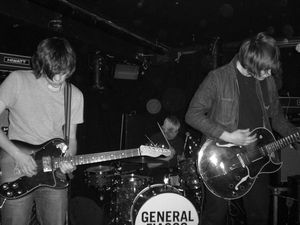 Comment voudriez-vous que les gens de parlent de votre musique ?
Dale: Avec enthousiasme et réflexion.
Jamie: Avec l'espoir que notre musique leur a fait de l'effet.

Dans quel contexte voudriez-vous qu'on l'écoute ?
Callum: Comme un tout, mais reconnaître que chaque chanson a ses propres mérites. Notre style de musique est fort et devient plus défini.
Thomas: C'est un peu varié mais nous croyons également en nos chansons et notre style de musique qui sont forts, sans être forcément écrasants.

Quelles sont vos drogues? Vos vices ?
Jamie: Les courses, c'est très amusant.
Dale: Cal et moi adorons faire les pâtes("pastries") et le pain.

Quand est-ce que vous pensez venir en France ?
Thomas: dès que nos passeports seront renouvelés !
Jamie: nous allons réserver des billets de ferry bientôt!

Quels sont vos projets?
Dale: écrire de nouvelles chansons et apprendre à réparer notre équipement.
Thomas: et nous restaurons une vieille commode qui est dans la remise de Jamie
PS:Dale if you want to call me, my number is +336... (Comment ça je drague ?! C'est de l'investigation !)
Commentaires sur "Our music is strong and becomes more defined everyday"