19 juin 2009
Das Racist- "Combination Pizza Hut and Taco Bell"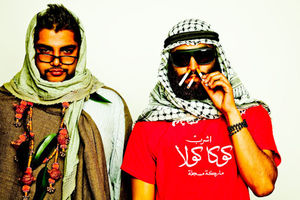 Les Das Racist rappellent Dan Le Sac vs Scroobius Pip (dont j'avais parlé dans cet article) version portoricaine. Et le moins qu'on puisse dire c'est que ces deux new-yorkais sont tellement bons qu'ils te font même danser en parlant de pizzas et de tacos.
Ils se sont fait connnaître par internet. Les Das Racist sont produits par Leif qui n'est vraiment pas mauvais non plus et que tu peux découvrir sur son MySpace.
Le duo est composé de Himanshu Suri et Victor Vazquez. Le London's Guardian les décrit comme "A self-styled "slacker-art-rap Dutchpop world music band with mad street cred". Bref, avec un anglais similaire au mien tu auras compris que leur musique est pleine d'influences diverses, plutôt à contre-courant et qu'ils sont complétement barrés. Si tu en comprends plus que ça, laisse un commentaire !
Les Wallpaper ont fait un excellent remix de leur titre que tu trouveras ici.
Dans le même style, version rap blanc américain tu trouveras aussi The Lonely Island avec notamment "Like A Boss".
PS: la photo de Das Racist a été réalisée par Victoria Jacob, une photographe américaine que j'aime beaucoup.
Commentaires sur A base de Pizza Hut and Taco Bell...