01 novembre 2009
Chattering about "The Bottle" and "Message To Messengers"
Alors que l'hiver approche je te propose aujourd'hui de (ré)écouter Winter In America (1974) qui contient le titre phare "The Bottle" et Spirits (1994) avec son "Message To Messengers" tonitruant et le magnifique "Spirits".
Gil-Scott Heron fut parmi les premiers avec The Last Poets et Watt Prophets à déclamer des textes sur des rythmes qui rappellent des percussions, le premier à rapper donc.
Gil Scott-Heron est un artiste fascinant. A travers des titres comme "Message to the Messengers" ou "B Movie" il s'est engagé politiquement et a également pris des partis pris esthétiques osés sur le courant qu'il a lui-même fondé: le rap.
"if you're gonna be speakin' for a whole generation
And you know enough to try and handle their education
Be sure you know the real deal about past situations"("Message To The Messengers", tiré de l'album Spirits)
Il reproche aux rappeurs de critiquer des climats sociaux sans pour autant proposer de solutions. Le propos est d'une modernité hallucinante quand on pense à des groupes comme 113 ou la Fonky Family qui non contents de faire de la musique de merde ne proposent aucune alternative à une situation qu'ils critiquent.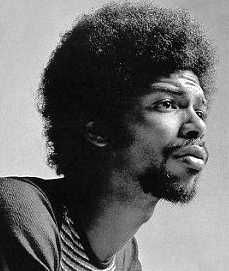 Gilou (pour les intimes) est bien plus qu'un artiste talentueux c'est un homme qui marque son époque par son avant-gardisme et son engagement. Son oeuvre est aujourd'hui plus moderne que jamais parce que se rappeler la façon dont GSH considère le rap c'est élever le débat du genre au-delà d'une accumulation stérile de fric et de putes et se reposer la question du rôle de la création musicale et de l'artiste. Oeuvre divertissante, commerciale ou véritable moyen d'expression pour faire avancer les idées ? Le parti pris minimum d'un artiste c'est précisément ce parti pris esthétique- particulièrement dans le rap où le fond des textes compte autant que le reste et davantage que dans les autres genres.
Cela dit GSH en tant qu'homme, aux dernières nouvelles, est complètement défoncé à la cocaïne et au crack mais ceci est un autre chapitre.
Gil, I love you.
En savoir plus à propos de Gil Scott Heron
Commentaires sur Gil Scott-Heron: le précurseur du rap