29 octobre 2009
Critique de The Brute Chorus par Happy Dead Man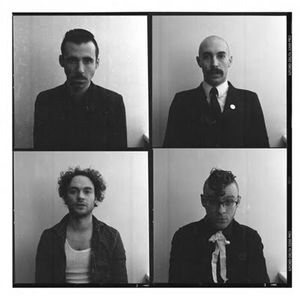 Comme leurs copains de Lord Auch (prononcez "Lord Oc"), les membres de The Brute Chorus jouent un rock'n roll voire un rockabilly sombre, désincarné et complètement déstructuré.
Je les ai découvert à l'occasion de la sortie d'une poignée de singles percutants :"Chateau" et "She Was Always Cool", entre autres. La bande a sorti ce mois-ci son premier album éponyme.
L'enregistrement "live" (on entend le public qu'à la toute fin des morceaux) et en une seule prise ajoute à la tension ambiante. Le groupe joue sans cesse sur le fil du rasoir. A tout moment on est proche de l'explosion. Un croisement entre des Cramps de la première heure et un Elvis Presley qui enfin se serait mis à faire de rock.
Mon morceau préféré reste leur dernier single en date "All The Pilgrims" dans lequel le chanteur déclame qu'il est "un pêcheur et non croyant", soutenu en cela par une basse au son exceptionnel que je n'avais plus entendu depuis le "Rattus Norvegicus" des Stranglers et le "41" de Swell.
The brute chorus c'est: un groupe à suivre et un album à ne pas manquer.

Commentaires sur Choeur de brute