04 décembre 2009
Plat du jour: électro post punk new wave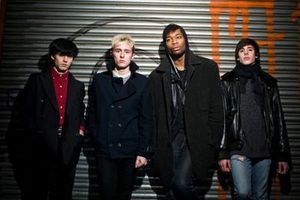 Mon coup de coeur du jour c'est ce remix du titre "Dead Disco Dance" d'O Children par The Golden Filther.
O Children est un groupe londonien au délicieux goût de revival new wave. Ils ont sorti un EP de deux titres "Dead Disco Dance" et "Dead Eye Lover". Evidemment on attend un album mais le groupe s'avance assez peu à ce sujet. Cf: une interview intéressante faite Le Bar Cult. En attendant, ces londoniens sont à suivre de très près.
Quant à The Golden Filther c'est un duo électro new-yorkais. Leur chanteuse, Pénélope, a une voix envoûtante. A ce jour deux titres sont sortis: "Solid Gold" en juillet et "Thunderbird" en novembre (que je diffuserai demain) et on trouve aussi un grand nombre de remix d'eux sur Youtube notamment le remix de "Lay It Down" de Peter Bjorn and John que j'aime beaucoup. Pour eux aussi j'attends l'album...
Commentaires sur O Children - Dead Disco Dance (The Golden Filter Remix)