09 novembre 2009
So Lonely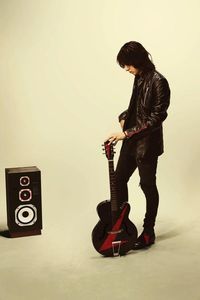 L'heure est aux aventures en solo semble-il dans le monde du rock. Doherty, Barat, Brenson, Albert Hammond Jr., Lennon, McCartney…Non, j'déconne pour ces deux derniers.
Donc, après son guitariste qui a déjà sorti deux jolis albums pop, c'est au tour de Julian Casablancas, chanteur des Strokes de nous livrer sa galette. Je dois dire qu'après plusieurs écoutes je reste assez mitigé sur ce que je dois penser de ce Phrazes For The Young sorti le 3 novembre.
J'aurais presque envie de paraphraser le célèbre slogan de la pub de Canada Dry que les plus anciens d'entre vous doivent connaître : "C'est la voix des Strokes, les rythmes des Strokes, mais ce ne sont pas les Strokes !" Julian nous livre là un rock halluciné mais linéaire, minimaliste qui se veut élaboré. Beaucoup de machines tissent la trame des huit chansons qui composent l'album. Un rythme amené par une drum machine des plus simpliste. Certes on perçoit les talents de mélodiste du chanteur, une recherche d'inventivité mais qui n'éclate pas. Les mélodies sont agréables, j'aime le futuriste "River Of Brakelights". Mais, là où son compère Albert Hammond Jr réussit avec un rock de facture traditionnelle et très "popisant", Casablancas pèche par une volonté de vouloir faire trop novateur et passe à mon avis à côté de son sujet.
Se rattrapera-t'il sur scène ?
Commentaires sur Happy Dead Man critique "Phrazes For The Young" de Julian Casablancas