06 novembre 2009
Etre et avoir été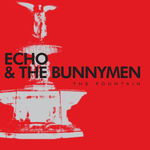 "Too old to rock n roll, too young to die !" disait Jethro Tull.
Echo et ses homme lapins, après nous avoir servi 4 somptueux albums dans le début des 80's s'est entêté à continuer sur une voie depuis longtemps désaffectée, sans jamais chercher à se renouveler, et s'entête avec ce nouvel album sorti mi-octobre intitulé The Fountain. On se demande ce qui leur a pris de l'écrire: c'est mou, c'est triste, c'est "mainstream" et n'apporte rien de neuf.
Contrairement à leur alter-égo New Order qui explore sans cesse de nouvelles contrées et tente de se renouveler à chaque album, Echo & The Bunnymen reste enfermé dans le carcan des 80's dépressives et tout ce qu'elles avaient de mauvais: un genre et un son obsolètes. Si vous êtes fan de cette période écoutez plutôt The Big Pink, The XX ou La Roux qui sont dans un trip revival 80's au son bien plus excitant que n'importe quel morceau de cet album d'Echo.
Finalement la cinquantaine ne réussit pas à tout le monde, et c'est la raison pour laquelle je continuerai d'écouter de nouveaux groupes plutôt que des vieux qui n'ont pas su évoluer et que je passerai inlassablement les anciens titres d'EATB : "Villiers Terrace", "Happy Death Men", "All That Jazz" et "The Killing Moon" (un pur chef- d'œuvre).
« It's better to burn or than to fade away ! »
Commentaires sur Critique de Echo & The Bunnymen par Happy Dead Man